Kaligriya Kaliurang in Pakem Sub-District, Yogyakarta - Indonesia
---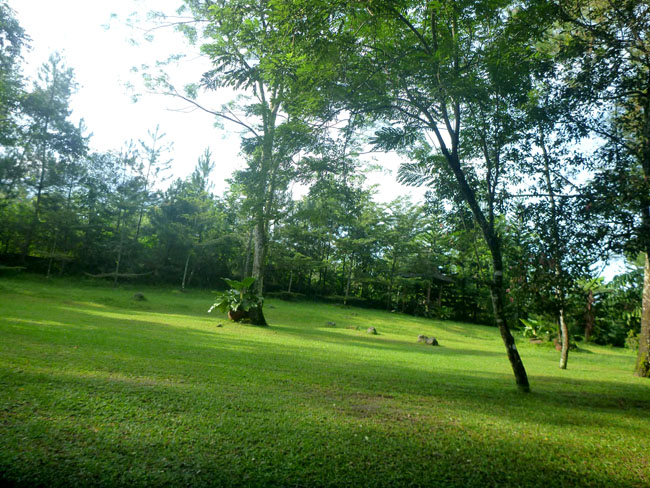 Almost all people love outdoor activities and outbound with families. In this case, a good reference is available, which is Kaligriya Kaliurang. The location is in Hargobinangun Village and it belongs to Pakem Sub-District. Another important fact is that it is one of the most recommended outbound sites aside from Shaba and others. What makes it a good site, actually? People come to this site to bond with friends or families, enjoy numerous outdoor activities, and get rid of stresses with the help of nature. Also, some corporations choose this place to conduct team building for their employees!
The Nuance
In terms of nuance, Kaligriya Kaliurang seems more comfortable than other outbound sites located near to Kaliurang Area. The reason is none other than the presence of various types of trees and shady plants. Not to mention the grasses are greener and fresher. Do not forget that the site features refreshing air of the mountain, too. Have no worries. The size of this outbound site is considered wide, so it can accommodate lots of visitors regardless of the time of the visit. Another good thing is that the management provides several outbound programs for tourists to choose from.
Exploring Kaligriya Kaliurang
A good thing about Kaligriya Kaliurang Outbound Site is that it offers soothing atmosphere. Thanks to the strategic location. This explains why visitors would spend some time on the site for refreshing and relaxation. These people are usually citizens who want to get rid of stresses and escape from their daily routines. They do not have to do outbound activities, in fact. It is because they can simply sit and relax on the site while enjoying its peaceful atmosphere.
The next reason why Kaligriya Kaliurang Outbound Site becomes popular is due to its popularity among companies. Several corporations often choose the site as the place for a special program called experiential learning. The purpose is to replace the burden of workloads with a refreshed mind. This way, the employees can improve their working efficacy as their level of happiness is high. Plus, they can bond with others and improve their working compatibility too. That means this outbound site gives a great boost and motivation, especially to those people.
What is more? The site is also famous for its paintball game. Many teenagers and locals often come to the site to enjoy such fun sports with their friends, after all. At special occasions, visitors can even enjoy live music shows and Merapi tour! Not only the site is available for the locals, it accommodates those who come from other regions too. Moreover, the management offers a shuttle service for those who need it.
Nearby Attractions
The Lost World Castle
Naura Mushroom
Merapi Peak
Sisa Hartaku Museum
Turgo Cave
How to Get There
Tourists can take Kaliurang Street to get to Kaligriya Kaliurang Outbound Site. The distance is 22.9 km from Adisucipto International Airport, so they may take only 45 minutes to get there. As for the transportation, many options are available including buses and taxi. Renting a car becomes a good option, as well, for those who come from other regions.
Where to Stay
Kana Hotel
Sewu Padi Hotel
Setyawati Hotel
Anugrah Wisata Hotel
Raffles Hotel

Latest News
The Special Region of Yogyakarta is one of the provinces of Indonesia that has a lot of beauties, there are always new tourist attractions there. Not surprisingly, Yogyakarta has become one of the favorite tourist destinations for travelers, both local and foreign tourists. Especially at this time, tourism in Yogyakarta continues to develop to present tourist destinations that are worth visiting. In addition to the Kalibiru National Park, there are new tourist destinations in Yogyakarta that should on your to-do-list when traveling to Yogyakarta. Kalibiru National ParkKalibiru National Park is…
---
A towering tree inside Rancang Kencana cave in Bleberan Village, Playen District, Gunungkidul Regency, Yogyakarta Special Region. The tree is hundreds of years old. In 2003, a team of archaeologists from Gajah Mada University (UGM) conducted research on this tree. The results of his research, the tree is estimated to be about 300 years old. The big tree in the cave is called Klempit or Tlumpi. The Klempit tree bears fruit every rainy season. According to the local resident, the fruit of the tree can be eaten. The shape of…
---
Every waterfall always keeps a story. Including the Sri Gethuk waterfall in Bleberan Village, Playen District, Gunungkidul Regency, Yogyakarta Special Region. Many people call Sri Gethuk a beautiful waterfall. The water comes from a limestone embankment river that cuts rock cliffs to form a waterfall. The Sri Gethuk waterfall flows into the Oyo river. Often the rocks under waterfalls are also used for meditation. Usually meditating in the morning before many visitors come. The beauty of Sri Gethuk waterfall is already famous. Even the Sri Gethuk waterfall was once used…
---
When exploring Yogyakarta City, tourists should not forget to drop by in Prambanan Sub-District of Sleman Regency. Aside from offering beautiful temples, that area is also known for its Tebing Breksi or the Breccia Cliff. The exact location is in Sambirejo Village and it resides near to several famous temples like Prambanan, Ratu Boko, Candi Ijo, and Kalasan Temple. This majestic cliff is popular among tourists due to the excellent nuance and amazing landscapes, actually. No wonder, all visitors are likely to enjoy sightseeing and photography there. Some tourists also…
---