Watu Kemloso Attraction in Cangkringan Sub-District, Yogyakarta - Indonesia
---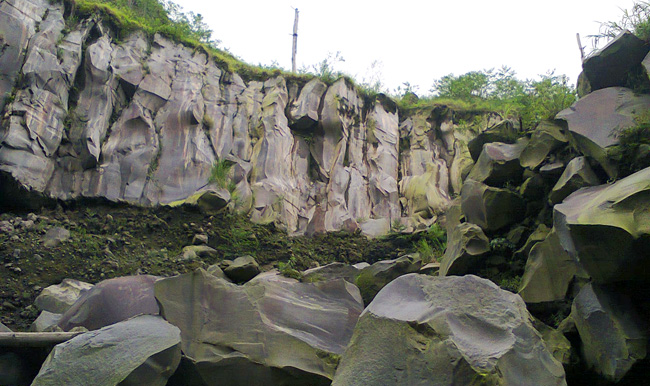 Nature lovers always look for something new and unique out there. Well, there is a phenomenon in Cangkringan Sub-District and the name is Watu Kemloso. It is the group of gray rocks formed due to lava of Merapi Mountain and has the unique shape, which is similar to the flow of a river. "Watu" means stone or rock and "Kemloso" means a mat. This unique attraction has become one of the lures for those who are visiting Merapi National Park, in fact. Another fact is that tourists usually drop by at this site during trekking to Kalikuning Park and nearby hills.
The Nuance
There is an explanation why such pile of stones has the shape of the flowing river, actually. The reason is none other than the previous eruption of Merapi Mountain. The reminiscence of lava hardened and turns into such natural phenomenon. The next interesting allure of the site is the bunch of tall weeds that surround Watu Kemloso. Even though it was once hot lava, the site is quite safe for exploration these days. Visitors even can walk on it barefoot and freely.
Exploring Watu Kemloso
People have different reasons to come to Watu Kemloso. The most common reason is to enjoy trekking. That means they would explore the site and conquer the landscape thoroughly. The only consideration is that there is no official route for trekking. That means beginners are likely to get lost if they don't get the help of the guide. Thus, make sure to get such service before visiting the location. They are usually available near to Merapi National Park or other famous attractions in Kaliurang Area.
The prime checkpoint is in Kalikuning Park. From the location, tourists can start their trip to get to Watu Kemloso and enjoy trekking in such area. During the adventure, travelers can rest for a while and eat lunch with other trekkers. The most popular food that they can get around the site is called "Sego Kucing". The portion is not too much, but it is suitable to take care of hunger during trekking. Do not forget to drink enough water before continuing the trip, though.
Once arriving at the site, tourists can see Watu Kemloso right away. It was once a river, but it becomes dry and hardened by the lava. No wonder, no water remains on the site instead of gravels, stones, and dry sand. It is safe to walk or sit on it, though. Do not forget to take pictures of the site as well! For those who want further exploration, they should go south when the route is safer and easier.
Nearby Attraction
The Lost World Castle
Kalikuning Park
Pronojiwo Peak
Merapi Bunker
How to Get There
Watu Kemloso is located near to Kalikuning Park in Cangkringan District. Thus, from Adisucipto International Airport, travelers can simply head to Cangkringan through Pakem – Kalasan Street. The distance is 27.7 km, so the trip may take around 50 minutes.
Where to Stay
Sido Akur Hotel
Setyawati Hotel
Griya Persada Hotel
Rose Garden Family Hotel

Latest News
The Special Region of Yogyakarta is one of the provinces of Indonesia that has a lot of beauties, there are always new tourist attractions there. Not surprisingly, Yogyakarta has become one of the favorite tourist destinations for travelers, both local and foreign tourists. Especially at this time, tourism in Yogyakarta continues to develop to present tourist destinations that are worth visiting. In addition to the Kalibiru National Park, there are new tourist destinations in Yogyakarta that should on your to-do-list when traveling to Yogyakarta. Kalibiru National ParkKalibiru National Park is…
---
A towering tree inside Rancang Kencana cave in Bleberan Village, Playen District, Gunungkidul Regency, Yogyakarta Special Region. The tree is hundreds of years old. In 2003, a team of archaeologists from Gajah Mada University (UGM) conducted research on this tree. The results of his research, the tree is estimated to be about 300 years old. The big tree in the cave is called Klempit or Tlumpi. The Klempit tree bears fruit every rainy season. According to the local resident, the fruit of the tree can be eaten. The shape of…
---
Every waterfall always keeps a story. Including the Sri Gethuk waterfall in Bleberan Village, Playen District, Gunungkidul Regency, Yogyakarta Special Region. Many people call Sri Gethuk a beautiful waterfall. The water comes from a limestone embankment river that cuts rock cliffs to form a waterfall. The Sri Gethuk waterfall flows into the Oyo river. Often the rocks under waterfalls are also used for meditation. Usually meditating in the morning before many visitors come. The beauty of Sri Gethuk waterfall is already famous. Even the Sri Gethuk waterfall was once used…
---
When exploring Yogyakarta City, tourists should not forget to drop by in Prambanan Sub-District of Sleman Regency. Aside from offering beautiful temples, that area is also known for its Tebing Breksi or the Breccia Cliff. The exact location is in Sambirejo Village and it resides near to several famous temples like Prambanan, Ratu Boko, Candi Ijo, and Kalasan Temple. This majestic cliff is popular among tourists due to the excellent nuance and amazing landscapes, actually. No wonder, all visitors are likely to enjoy sightseeing and photography there. Some tourists also…
---