Kaswargan Park in Pakem Sub-District, Yogyakarta - Indonesia
---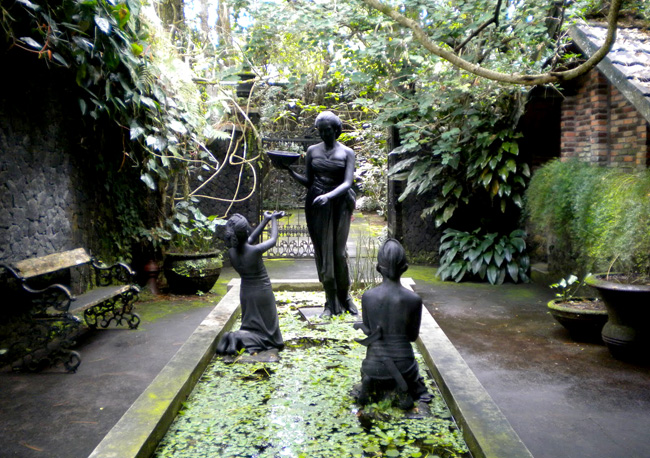 Perhaps lots of people have already heard about the famous museum called Ullen Sentalu, which resides in Pakem Sub-District. Well, it is part of Kaswargan Park, after all. Both of them become tourists' recommended vacation spot for sightseeing and lessening as well. The location is in the west part of Kaliurang Park and it resides near to other attractions which tourists can visit later. In the terms of name, "Kaswargan" means the heaven or paradise. It is because the park represents the serenity and beauty of such place.
The Nuance
It is, without a doubt, Kaswargan Park features beautiful things like lush trees, various plants, grasses, and several traditional statues. As mentioned before, Ullen Sentalu Museum is part of this part along with other interesting places like Beukenhof restaurant, Muse souvenir store, boutique, and Haryono Family's house. In terms of nuance, the park shares the majestic aura of Merapi Mountain and classical culture. According to the locals, in fact, this park was the home of gods (based on Javanese Philosophy). Other people say the park is the home of a powerful person named Sapu Jagat who has the ability to wipe out the entire universe!
Exploring Kaswargan Park
Like the name implies, Kaswargan Park is indeed beautiful. The location is on 878 meters above the sea, so it offers a soothing atmosphere and green environment. Sometimes, in fact, the fog covers the site and creates a more interesting nuance. Not to mention visitors would feel the Javanese culture when spending time there. All these features of the park combine into one and provide a comfy ambiance to the guests. No wonder, the first thing tourists can do is to relax and find peace.
The next recommended thing to do in Kaswargan Park is to learn the history of the site. It is said the park has been there for decades and passes through gradual development since 1985. At the first time, only Selagiri Cave and Kambang Village became the main features of this park. Later, Ullen Sentalu Museum and other attractions completed this site. Even tourists can find a dance training gallery there! Other attractions include "Ruang Budaya" (culture gallery) and Selasar Retja Landa (the place to display numerous historical figurines.
However, due to the eruption of Merapi Mountain, some of those features no longer reside on the site. This is not a bad thing, though. Today, travelers can enjoy many things in the park including the natural beauty, culture, history, and the traces of the wrath of Merapi's eruption.
Nearby Attractions
Bening Village
Tanen Village
Turgo Cave
Lava Tour Site
Kaligriya Kaliurang
How to Get There
As mentioned earlier, Kaswargan Park belongs to Pakem Sub-District. The distance is 28.8 km from Adisucipto International Airport, so the trip is likely to take around 55 minutes to get there. Also, this can be done through Pakem – Kalasan Street. To be exact, the park resides in Hargobinangun Village, which is in the west part of Kaliurang.
Where to Stay
Kana Hotel
Sewu Padi Hotel
Anugrah Wisata Hotel

Latest News
The Special Region of Yogyakarta is one of the provinces of Indonesia that has a lot of beauties, there are always new tourist attractions there. Not surprisingly, Yogyakarta has become one of the favorite tourist destinations for travelers, both local and foreign tourists. Especially at this time, tourism in Yogyakarta continues to develop to present tourist destinations that are worth visiting. In addition to the Kalibiru National Park, there are new tourist destinations in Yogyakarta that should on your to-do-list when traveling to Yogyakarta. Kalibiru National ParkKalibiru National Park is…
---
A towering tree inside Rancang Kencana cave in Bleberan Village, Playen District, Gunungkidul Regency, Yogyakarta Special Region. The tree is hundreds of years old. In 2003, a team of archaeologists from Gajah Mada University (UGM) conducted research on this tree. The results of his research, the tree is estimated to be about 300 years old. The big tree in the cave is called Klempit or Tlumpi. The Klempit tree bears fruit every rainy season. According to the local resident, the fruit of the tree can be eaten. The shape of…
---
Every waterfall always keeps a story. Including the Sri Gethuk waterfall in Bleberan Village, Playen District, Gunungkidul Regency, Yogyakarta Special Region. Many people call Sri Gethuk a beautiful waterfall. The water comes from a limestone embankment river that cuts rock cliffs to form a waterfall. The Sri Gethuk waterfall flows into the Oyo river. Often the rocks under waterfalls are also used for meditation. Usually meditating in the morning before many visitors come. The beauty of Sri Gethuk waterfall is already famous. Even the Sri Gethuk waterfall was once used…
---
When exploring Yogyakarta City, tourists should not forget to drop by in Prambanan Sub-District of Sleman Regency. Aside from offering beautiful temples, that area is also known for its Tebing Breksi or the Breccia Cliff. The exact location is in Sambirejo Village and it resides near to several famous temples like Prambanan, Ratu Boko, Candi Ijo, and Kalasan Temple. This majestic cliff is popular among tourists due to the excellent nuance and amazing landscapes, actually. No wonder, all visitors are likely to enjoy sightseeing and photography there. Some tourists also…
---