Merapi Mountain National Park in Pakem Sub-District, Yogyakarta Special Region - Indonesia
---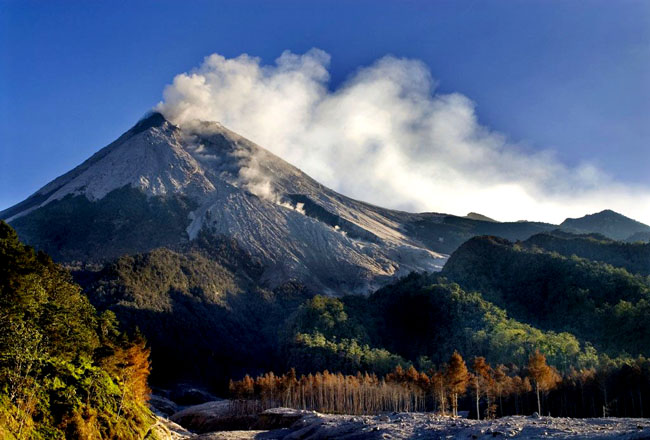 In Pakem Sub-District, tourists can find a famous vacation spot called Merapi Mountain National Park. This lush and comfy natural attraction is located in Hargobinangun Village and has become a good place to enjoy family recreation and trekking. Not to mention the location is quite strategic, so everyone can reach the site easily. Visitors can both witness pristine nature and several wild animals there. Also, they are able to eradicate stresses at once, feeling the fresh air of the highland. At least, there are 3 main attractions to explore on the site including a waterfall, Kaliurang Peak, and historical cave.
The Nuance
In terms of nuance, Merapi Mountain National Park is both cozy and peaceful. No wonder, it is surrounded by big trees and cold atmosphere of the mountain. Even several wild animals are often seen including monkeys, birds, and insects. At the entrance, tourists can park their vehicle in the available parking lot and find food stands there. The most popular one is definitely Mbah Carik's Jadah Tempe, which is one of the signature foods of the site. When it comes to facilities, visitors can find toilets, musholla, etc.
Exploring Merapi Mountain National Park
So, what can tourists do in Merapi Mountain National Park? Well, they have many options and one of them is trekking. At least, more than 150 species of plants grow in this area including Acacia decurens. Here is the thing. The size of the park is around 6,400 hectares so it takes much energy to get around it thoroughly. As an alternative, tourists can simply visit the most important spots in the park instead of exploring it in an exhaustive manner.
One of the reasons to visit Merapi Mountain National Park is to learn its significance. It is said the park becomes the home of several prime springs that accommodate all creatures living near to the location. Not to mention it acts as a dynamic ecosystem and a good spot to spend a memorable vacation either with friends or families. In fact, some people come alone to the park to find peace and get rid of stresses. Here are several things they can enjoy on the park, actually.
The most popular one is trekking through Kinahrejo – Tlogo Muncar. During trekking, tourists can enjoy the nuance of tropical forest with its soothing atmosphere. Next, they can visit nearby waterfalls and enjoy their fresh water. What is next? There is even an interesting traditional ritual done by the locals, called Labuhan. The purpose is to prevent the wrath of Merapi Volcano and to bring fortunes to villagers.
Nearby Attractions
Merapi Peak
Bening Village
Tanen Village
76 Hill
How to Get There
Once tourists arrive at Adisucipto International Airport, they can take either a bus or taxi to Pakem Sub-District through Cangkringan Street. The distance is 26.7 km, so the trip takes about 60 minutes. The last thing to do is to head to the park right away and pay the ticket at the entrance.
Where to Stay
Griya Persada Hotel
Ngesti Laras Hotel
Eden 2 Hotel
Paraksari Hotel

Latest News
The Special Region of Yogyakarta is one of the provinces of Indonesia that has a lot of beauties, there are always new tourist attractions there. Not surprisingly, Yogyakarta has become one of the favorite tourist destinations for travelers, both local and foreign tourists. Especially at this time, tourism in Yogyakarta continues to develop to present tourist destinations that are worth visiting. In addition to the Kalibiru National Park, there are new tourist destinations in Yogyakarta that should on your to-do-list when traveling to Yogyakarta. Kalibiru National ParkKalibiru National Park is…
---
A towering tree inside Rancang Kencana cave in Bleberan Village, Playen District, Gunungkidul Regency, Yogyakarta Special Region. The tree is hundreds of years old. In 2003, a team of archaeologists from Gajah Mada University (UGM) conducted research on this tree. The results of his research, the tree is estimated to be about 300 years old. The big tree in the cave is called Klempit or Tlumpi. The Klempit tree bears fruit every rainy season. According to the local resident, the fruit of the tree can be eaten. The shape of…
---
Every waterfall always keeps a story. Including the Sri Gethuk waterfall in Bleberan Village, Playen District, Gunungkidul Regency, Yogyakarta Special Region. Many people call Sri Gethuk a beautiful waterfall. The water comes from a limestone embankment river that cuts rock cliffs to form a waterfall. The Sri Gethuk waterfall flows into the Oyo river. Often the rocks under waterfalls are also used for meditation. Usually meditating in the morning before many visitors come. The beauty of Sri Gethuk waterfall is already famous. Even the Sri Gethuk waterfall was once used…
---
When exploring Yogyakarta City, tourists should not forget to drop by in Prambanan Sub-District of Sleman Regency. Aside from offering beautiful temples, that area is also known for its Tebing Breksi or the Breccia Cliff. The exact location is in Sambirejo Village and it resides near to several famous temples like Prambanan, Ratu Boko, Candi Ijo, and Kalasan Temple. This majestic cliff is popular among tourists due to the excellent nuance and amazing landscapes, actually. No wonder, all visitors are likely to enjoy sightseeing and photography there. Some tourists also…
---