Ullen Sentalu Museum in Pakem Sub-District, Yogyakarta - Indonesia
---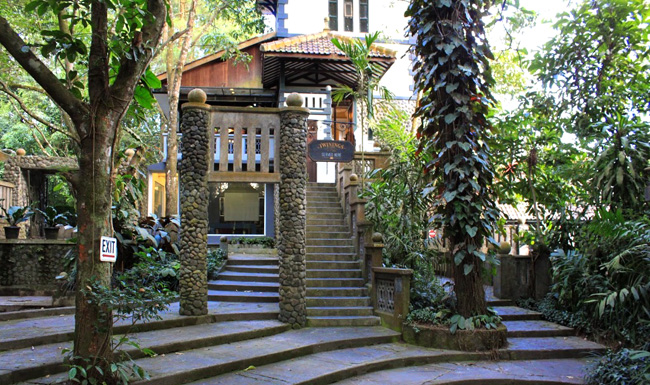 Perhaps some people don't know the fact that Kaliurang owns a unique museum called Ullen Sentalu. Well, it is understandable as most of them may think about hills and waterfalls when talking about it. Well, the museum resides in the west part of Kaliurang and belongs to Hargobinangun Village. Actually, it shares the same location with Kaswargan Park and the access is considered easy as well. It is a private-owned museum, but everyone is allowed to visit the museum anytime. What is in it? The museum displays numerous types of traditional Javanese arts and culture.
The Nuance
In terms of nuance, the museum features a new building instead of the old one. No wonder, the ambiance is both clean and fresh especially due to several plants growing around it. Unlike conventional museums, this one applies a new paradigm so it appears unique and more interesting to visitors. The items have no label so it requires a tour guide to explain everything regarding its information and history. The next interesting fact is that the museum has several rooms, featuring different items and displays. Make sure to explore them all, therefore.
Exploring Ullen Sentalu Museum
As mentioned before, the museum features several rooms in which guests can explore. The first room is the welcome room. The next one is called dance arts and Gamelan room, where tourists can find a set of Gamelan granted by a prince of Yogyakarta Empire. What is next? The guests can explore Guwa Sela Giri Room, which is actually a basement. Inside, several paintings of Mataram Dynasty reside. For more attractions, there is the poetry room. The friends of Koes Sapariyam wrote those between 1939 and 1947, actually.
The next available room to explore is called Ratu Mas Royal Room, which was built as a gift for Pake Buwana X's empress. For those who love traditional arts, they must not miss Vorstendlanden Batik room where they can find lots of collections of local Batik fabrics. As an alternative, Pesisiran Batik room also displays some of these items. Next, they can find "Putri Dambaan" room, where many private photos of Mangkunegara VII's daughter reside including her childhood and marriage-hood photos. Another room to explore is Sekara Bawana where several paintings of Mataram King reside.
Apart from exploring the rooms and art collections of the museum, the guests can simply take some time outside and enjoy the fresh atmosphere. That means photography becomes a worthy activity to do as well on the site. Even the museum architecture is worth a photo shot. Later, they can enjoy lunch at the nearby restaurant and eat several recommended dishes like glazed lamb rack, breaded chicken tender, and lobster!
Nearby Attractions
Merapi Peak
Taman Sari Park
The Lost World Castle
How to Get There
The distance between Adisucipto International Airport and Pakem Sub-District is 28.9 km, so it takes around 1 hour to get to the location. Once arriving at Hargobinangun Village, tourists can hire a guide to get around easily. As for the route, make sure to take Pakem-Kalasan Street.
Where to Stay
Kana Hotel
Sewu Padi Hotel
Setyawati Hotel
Anugrah Wisata Hotel
Eden II Hotel

Latest News
The Special Region of Yogyakarta is one of the provinces of Indonesia that has a lot of beauties, there are always new tourist attractions there. Not surprisingly, Yogyakarta has become one of the favorite tourist destinations for travelers, both local and foreign tourists. Especially at this time, tourism in Yogyakarta continues to develop to present tourist destinations that are worth visiting. In addition to the Kalibiru National Park, there are new tourist destinations in Yogyakarta that should on your to-do-list when traveling to Yogyakarta. Kalibiru National ParkKalibiru National Park is…
---
A towering tree inside Rancang Kencana cave in Bleberan Village, Playen District, Gunungkidul Regency, Yogyakarta Special Region. The tree is hundreds of years old. In 2003, a team of archaeologists from Gajah Mada University (UGM) conducted research on this tree. The results of his research, the tree is estimated to be about 300 years old. The big tree in the cave is called Klempit or Tlumpi. The Klempit tree bears fruit every rainy season. According to the local resident, the fruit of the tree can be eaten. The shape of…
---
Every waterfall always keeps a story. Including the Sri Gethuk waterfall in Bleberan Village, Playen District, Gunungkidul Regency, Yogyakarta Special Region. Many people call Sri Gethuk a beautiful waterfall. The water comes from a limestone embankment river that cuts rock cliffs to form a waterfall. The Sri Gethuk waterfall flows into the Oyo river. Often the rocks under waterfalls are also used for meditation. Usually meditating in the morning before many visitors come. The beauty of Sri Gethuk waterfall is already famous. Even the Sri Gethuk waterfall was once used…
---
When exploring Yogyakarta City, tourists should not forget to drop by in Prambanan Sub-District of Sleman Regency. Aside from offering beautiful temples, that area is also known for its Tebing Breksi or the Breccia Cliff. The exact location is in Sambirejo Village and it resides near to several famous temples like Prambanan, Ratu Boko, Candi Ijo, and Kalasan Temple. This majestic cliff is popular among tourists due to the excellent nuance and amazing landscapes, actually. No wonder, all visitors are likely to enjoy sightseeing and photography there. Some tourists also…
---