Tlatar Kandangan Village in Turi Sub-District, Yogyakarta - Indonesia
---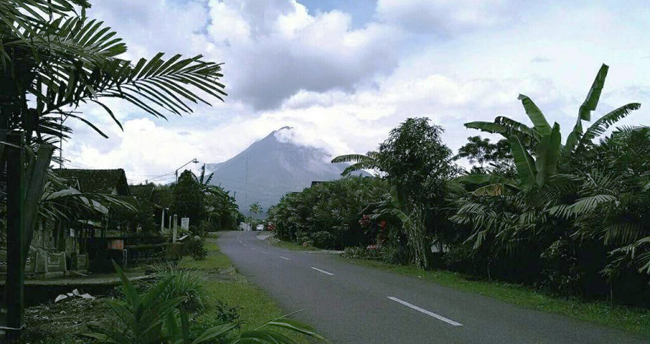 Exploring the nature sounds perfect for travelers, especially those who love outdoor activities. During a vacation in Kaliurang Area, for example, there is a recommended destination called Tlatar Kandangan Village. The location is in Turi Sub-District and it belongs to Sleman Regency. The locals know this site for its perfect landscape and nuance to conduct several activities like outbound, camping, snake fruits picking, etc. Many college students also often spend outdoor activities together on this site. Moreover, people who live outside Yogyakarta visit this village occasionally before heading to Merapi National Park.
The Nuance
Like other villages located near to Merapi Mountain, Tlatar Kandangan features refreshing air and peaceful atmosphere. It is, without a doubt, visitors can find several farms of snake fruits (Salak) there. When it comes to the settlement, the houses look modest and the villagers live peacefully. On top of that, there are not many vehicles are seen on the location. What is more? The view of Merapi Mountain looks clear and majestic from the site, as the location is considered near. No wonder, with all these features, the local government included it into the list of tourist villages of Sleman Regency.
Exploring Tlatar Kandangan Village
Once tourists get to Tlatar Kandangan Village, they can feel its chilly atmosphere right away. Several villagers are seen on the site chatting and gathering, too. It would be great if visitors know how to speak the Indonesian Language, actually. This way, they can get some information from those people and hear some stories regarding the development of the village. According to the locals, they have been working hard to improve facilities and services so that the village is able to attract more tourists over time.
The fact is that Tlatar Kandangan Village resides at the foot of Merapi Mountain. That means it offers amazing natural views and an easy access to get to the Peak of Merapi Mountain. The distance between the settlement and the peak of the mountain is only 5 km, after all. For those who want to enjoy natural scenery, the best time to explore the village is definitely in the morning. The sun shines warmly and it creates a perfect panorama as well, especially when witnessing Merapi Mountain from such location.
Aside from witnessing the stunning panorama of Merapi Mountain, Tlatar Kandangan becomes a good place to enjoy agro-tourism. Thanks to the local Salak farms. Tourists are able to pick the fruits directly from the farms and eat them with friends or families. As an alternative, they can buy some of the fruits and bring them back home. The locals even produce delicious foods and drinks made of those fruits, in fact. These include Salak syrup and chips!
Nearby Attraction
Pulewulung Outbound Site
Tlatar Kandangan
Pancoh Village
Bening Village
Joglo Pusung
How to Get There
For those coming from Adisucipto International Airport, they can choose Raya Tajem Street to get to Turi Sub-District. Later, they should head to Tlatar Kandangan Village right away. The trip would take around 55 minutes and the distance is 26.5 km.
Where to Stay
Pakemsari Hotel
Eden II Hotel
Griya Persada Hotel

Latest News
The Special Region of Yogyakarta is one of the provinces of Indonesia that has a lot of beauties, there are always new tourist attractions there. Not surprisingly, Yogyakarta has become one of the favorite tourist destinations for travelers, both local and foreign tourists. Especially at this time, tourism in Yogyakarta continues to develop to present tourist destinations that are worth visiting. In addition to the Kalibiru National Park, there are new tourist destinations in Yogyakarta that should on your to-do-list when traveling to Yogyakarta. Kalibiru National ParkKalibiru National Park is…
---
A towering tree inside Rancang Kencana cave in Bleberan Village, Playen District, Gunungkidul Regency, Yogyakarta Special Region. The tree is hundreds of years old. In 2003, a team of archaeologists from Gajah Mada University (UGM) conducted research on this tree. The results of his research, the tree is estimated to be about 300 years old. The big tree in the cave is called Klempit or Tlumpi. The Klempit tree bears fruit every rainy season. According to the local resident, the fruit of the tree can be eaten. The shape of…
---
Every waterfall always keeps a story. Including the Sri Gethuk waterfall in Bleberan Village, Playen District, Gunungkidul Regency, Yogyakarta Special Region. Many people call Sri Gethuk a beautiful waterfall. The water comes from a limestone embankment river that cuts rock cliffs to form a waterfall. The Sri Gethuk waterfall flows into the Oyo river. Often the rocks under waterfalls are also used for meditation. Usually meditating in the morning before many visitors come. The beauty of Sri Gethuk waterfall is already famous. Even the Sri Gethuk waterfall was once used…
---
When exploring Yogyakarta City, tourists should not forget to drop by in Prambanan Sub-District of Sleman Regency. Aside from offering beautiful temples, that area is also known for its Tebing Breksi or the Breccia Cliff. The exact location is in Sambirejo Village and it resides near to several famous temples like Prambanan, Ratu Boko, Candi Ijo, and Kalasan Temple. This majestic cliff is popular among tourists due to the excellent nuance and amazing landscapes, actually. No wonder, all visitors are likely to enjoy sightseeing and photography there. Some tourists also…
---